Reine et le Cardinal (La). Dir. Marc Rivière (2009)
Reference (explicit)
Shakespeare play(s) :
---
1. Film data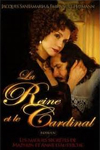 Marc Rivière

Philippe Torreton (Cardinal Mazarin), Alessandra Martines (Anne of Austria), Marc Citti (Jeure), Cyril Descours (Louis XIV - 15 to 22), Carla Buttarazzi (Marie Mancini - 15 to 19), Joséphine de Meaux (Madame de Motteville), Nicolas Vaude (Cardinal de Retz), Christophe Reymond (Gaston d'Orléans), Audrey Fleurot (Duchesse de Longueville), Rudi Rosenberg (Condé), Xavier de Guillebon (La Rochefoucauld), Samuel Theis (Beaufort), Damien Jouillerot (Conti), Charley Fouquet (Madame de Chevreuse)

Jacques Santamaria

Dominique Bouilleret, Emmanuelle Collinot, Roberto Venturi, Yves Dahan

Pascale Arnaud

Carolin Petit

Bertrand L'Herminier

Florence Sadaune

Christian Charret

GéTéVé, RAI Fiction, Société Française de Production (SFP)

197 min.

France, Italy

2009

French

Citel Vidéo, 2009

DVD
---
English Synopsis
When Louis XIII dies, his widow Anne of Austria (Alessandra Martines) becomes Queen Regent since their son, the future Sun King Louis XIV, is still a child. She initially distrusts Cardinal Mazarin (Philippe Torreton), but then makes him her Prime Minister. They start a secret romance. A few years later, the young Louis XIV (Cyril Descours) has grown up, and falls in love with Mazarin's niece, Marie Mancini (Carla Buttarazzi), whom he intends to marry.
---
Résumé en français
Lorsque Louis XIII meurt, sa veuve Anne d'Autriche (Alessandra Martines) devient régente puisque leur fils, le futur roi-soleil Louis XIV, est encore enfant. Au départ, elle ne fait pas confiance au cardinal Mazarin (Philippe Torreton), puis elle le nomme premier ministre. Ils entament une liaison secrète. Quelques années plus tard, le jeune Louis XIV (Cyril Descours) a grandi, et tombe amoureux de la nièce de Mazarin, Marie Mancini (Carla Buttarazzi), qu'il a l'intention d'épouser.
---
3. Analysis
<< back to top >>