Stan the Flasher. Dir. Serge Gainsbourg (1990)
Reference (explicit)
Shakespeare play(s) :
---
1. Film data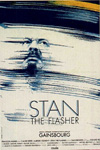 Serge Gainsbourg

Claude Berri (Stan Goldberg), Aurore Clément (Aurore), Élodie Bouchez (Natacha), Michel Robin (the prison inmate), Daniel Duval (Natacha's father), Richard Bohringer (David), Luce Chabanis (Rosalie), Mark Stokle (Jojo), Jacques Wolfsohn (a friend of David's), Stéphane Beyeler (a schoolgirl), Alexandra Billiard (a schoolgirl), Delphine Gliozzo (a schoolgirl), Agnès Gliozzo (a schoolgirl), Diane Lafosse (a schoolgirl), Karine Lautard (a schoolgirl), Lea Merovici (a schoolgirl), Laurence Moriette (a schoolgirl), Stéphanie Moglia (a schoolgirl), Sylvie Pompougnac (a schoolgirl), Céline Scanzaroli (a schoolgirl)

Serge Gainsbourg

Olivier Guéneau

Babeth Si Ramdane

Serge Gainsbourg

Raoul Albert

Corinne Jorry

François Ravard

R. Films, Canal+

64 min.

France

1990

French

Pathé Vidéo, 2003

DVD
---
English synopsis
Stan Goldberg is a teacher of English who gives private lessons to high school pupils at his apartment. Estranged from his wife Aurore, for whom he no longer feels any desire, he starts fantasizing about one of his pupils, Natacha. Every single lesson that Stan gives revolves around Hamlet's soliloquy: "To be or not to be." In the end, abandoned by his wife and his pupils, Stan finds the answer to the question by shooting himself in the head.
---
3. Analysis
<< back to top >>