King Lear. Dir. Jean-Luc Godard (1987)
Adaptation
Shakespeare play(s) :
---
1. Film data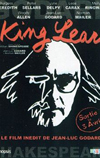 Jean-Luc Godard

Jean-Luc Godard (himself, Professor Pluggy), Menahem Golan (himself), Tom Luddy (himself), Norman Mailer (himself), Kate Mailer (herself), Peter Sellars (William Shakespeare Jr. the Fifth), Burgess Meredith (Don Learo), Molly Ringwald (Cordelia), Suzanne Lanza (goblin), Michèle Pétin (goblin), Leos Carax (Edgar), Julie Delpy (Virginia), Freddy Buache (Grigori Kozintsev ("Professor Quentin")), Woody Allen (Mr. Alien)

Norman Mailer, Peter Sellars, Tom Luddy

Sophie Maintigneux

Unknown

Johann Sebastian Bach, Ludwig van Beethoven

Unknown

Unknown

Jean-Luc Godard, Menahem Golan, Yoram Globus

Cannon Films

90 min.

United States

1987

English

Bodega Films, 2002

Internet
---
English Synopsis
King Lear is a loose, non-linear adaptation of William Shakespeare's tragedy of the same name by the French New Wave director Jean-Luc Godard.
---
Résumé en français
King Lear est une adaptation libre et non linéaire de la pièce de théâtre du même nom de William Shakespeare réalisée par Jean-Luc Godard, réalisateur associé à la Nouvelle Vague du cinéma français.
---
3. Analysis
<< back to top >>